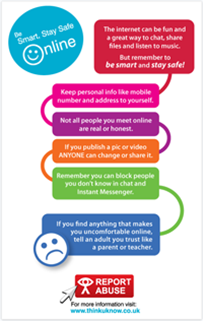 Lots of children and young people use the Internet at school and at home. It can be a fun thing to do but there are dangers that you need to be aware of to keep you and your friends safe from harm.
The internet and social media accounts are a great way of staying in touch with your friends, sharing pictures and videos and playing games.
It is very important that you use these accounts safely and don't give away information about yourself to people you really don't know and trust. Remember that when you share things online, like pictures or videos, they can easily get into the hands of people you don't know or trust.
You can discover lots of sites that are good and have fun activities, but some sites are not what you think they are. It is always wise to let your parents, or an adult that you trust, know which websites you are visiting.
Be safe
Don't give out personal details, photographs, or any other information that could be used to identify you, such as your family, where you live or the school you go to.
Don't believe people always tell the truth - they may not be what they seem.
Never arrange to meet someone without first telling your parents, getting their permission and taking a responsible adult with you. The first meeting should always be in a public place.
Always stay in public areas where other people are around.
Don't open an attachment or file unless you know and trust the person who has sent it.
Never respond to anything you find upsetting - save it or print it, log off, and tell an adult.
Online abuse can involve cyberbullying, sexting or cyberstalking using social media accounts, emails, chat rooms and other online forums or websites. If someone is saying bad things or making you feel upset using the internet, you can block them or report them.